PLEASE NOTE THAT OUR SUMMER EXHIBITION HAS NOW BEEN EXTENDED to AUGUST 28th

Members will be exhibiting a selection of work throughout the months of July and August at Ruthin Library. Open Library hours which includes Saturday Mornings. Lovely variety of work at exceptional prices.
The listings of events below give an idea of the clubs activities pre the pandemic.
November Workshop was all about animal portraits in watercolour. Artist Fliss Owens demonstrated her techniques.
October 2019 Demonstration and Workshop
Visiting artist Ray Jeacock demonstrated his style of painting an animal portrait, using acrylics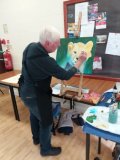 Spring 2019 Demontrations and Workshop
Pastel portrait with Cheshire artist John Paskin